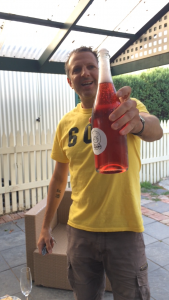 There's an old wine trade adage that the effort of the industry is split between 5% making it and 95% getting it to the customer. If a tree falls in a forest and no one hears it, does it make a sound? If a deluded English guy thinks he can make wine, if it doesn't sell it, has he made wine?
The first road-taste of the finished product properly disgorged and labelled was with friends Laura and Brendan Carter in the Adelaide Hills. (Unico Zelo Wines). Here's how it went
An encouraging start, but the real test would be the bars and restaurants I was hoping to sell it to. On Friday 12th December I headed into Adelaide with a suitcase with six bottles in it. I was picking up the rubber stamp and labels that morning, so the plan was to label the six bottles late morning, while at ambient temperatures so the labels would stick, then ask a friend to chill them in the afternoon, then show a few bottles around late afternoon. Tight!
Tasting with Koen, Africola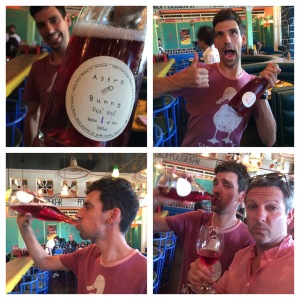 Tasting with Kennedy and Pablo, East End Cellars and David Le Mere MW, Mothervine
With Travis Tausend, Cork Wine Cafe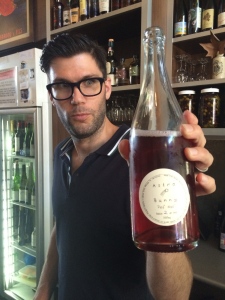 With Steve Crawford, Frederick Stevenson Wines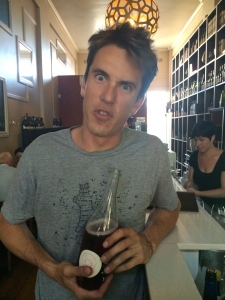 With Taras Ochota, Ochota Barrels and Mark Reginato, Connect Vines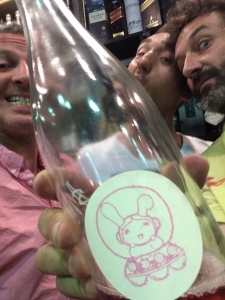 On tasting (from the bottle) wine guy Koen 'Coco" Janssens at Africola promptly ordered 48 bottles on the spot and made me the happiest non-winemaker in the universe. The next day East End Cellars also emailed an order through for delivery pre-Xmas. Cash for chaos as Malcolm McLaren would have said, or as the potty-mouthed, space travelling, star jumping, Astro Bunny would say, FUCK YEA!
On Monday 15th I labelled up six bottles and sent them via Australian post to bars and wine shops in McLaren Vale, Melbourne and Sydney.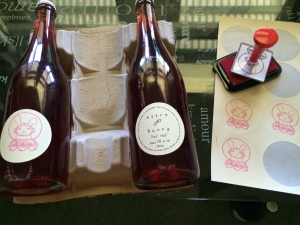 The journey continues…..
FRIDAY 19TH DECEMBER
INSTORE TASTING AT FALL FROM GRACE, WILLUNGA
Bunny love bouncing all over the walls!
Further adventures of Bunny sales, making new customers and new friends all over Adelaide and beyond….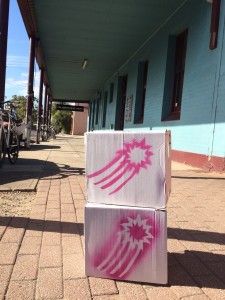 And now for 2015…..